Divorce – Danny Bonaduce & Gretchen Bonaduce
On April 10, 2007, Gretchen Bonaduce filed for divorce from former "Partridge Family" child star, and now radio and TV host, Dante Daniel ("Danny") Bonaduce after 17 years of marriage, citing irreconcilable differences.
According to the divorce papers, Gretchen is seeking legal and physical custody of their 6-year old son, Count Dante Jean-Michael V. and 12-year old daughter, Countess Isabella Michaela of the marriage, with visitation to Danny.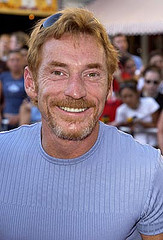 Danny and Gretchen met on a blind date, married on December 6, 1990, and separated April 9th as per the divorce petition. The couple had been talking about breaking up for several months. Mr. Bonaduce held out little hope for a reconciliation between them.
This is Mr. Bonaduce's second marriage. His first marriage was to a Japanese woman, Setsuko Hattori in 1985, to allegedly help her obtain a green card, and separated a few months later.
Mr. Bonaduce announced his divorce on the radio. He stated on "The Adam Carolla Show" that "I really don't want a divorce", "I love her". He fears he will never recover from the split from Gretchen. He is devastated.
On "Extra" he stated "I will love her for the rest of my life and I want her to stay with me forever and ever."
In 2005, Danny and Gretchen appeared in a VH-1 reality show entitled "Breaking Bonaduce" whose main theme was the couples efforts to repair their relationship by way of Danny's attempts to recover from alcohol, drugs, attempted suicide, extramarital infidelity, verbal abuse and other problems.
After undergoing rehab, Bonaduce stated that "we always hoped that once I actually got sober, we could get past it and I guess unfortunately we couldn't."
In a statement to TMZ, Gretchen said "even though they still care about each other and their two children, she felt it wasn't a great atmosphere to raise the kids."
See: https://www.tmz.com/2007/04/10/bonaduce-i-dont-want-a-divorce-this-sucks-a/; http://movies.msn.com/celebs/celeb.aspx?c+216951&mp=b; http://www.biography.com/search/article.do?id=200358; http://www.hollywood.com/news/Bonaduce_to_Divorce/3678862; http://community.live.journal.com/ohnotheydidnt/11830808.html; http://www.abcnews.go.com/Entertainment/wireStory?id=3031030; http://www.celebrityspider.com/news/april07/article042007-10.html; http://www.sfgate.com/cgi-bin/article.cgi?f=/n/a/2007/04/11/entertainment/e113003D15.DTL; http://www.usatoday.com/life/television/2007-04-11-1561750813_x.htm; http://bob.wjla.com/headlines/0407/413475.html