Paternity of Dannielynn, Official!
The DNA results are in! On April 10, 2007, the paternity of little Dannielynn, daughter of the late Anna Nicole Smith has finally been proven, it's Larry Birkhead.
Mr. Birkhead emerged from the Bahamian closed-court hearing on April 10th, smiling proudly, pumping his fist, and throwing his hands in the air in expressions of excitement and apparent relief, telling the skeptical world "I told you so!" The March 21 DNA test confirmed what he had already felt in his heart, that he was in fact Dannielynn's biological father.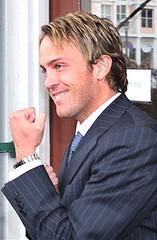 Mr. Birkhead further stated "Thank you for your support. Thank you for the people who got me this far," he said choking up. "Thank you very much. My baby's gonna be coming home pretty soon." The crowds in front of the courthouse applauded.
Mr. Birkhead's attorney, Emrick Knowles, Esq. further stated they would be back in Court Friday in the afternoon to deal with some additional legal issues, however, would not comment on the specifics. He did say "[The Judge] hasn't made any ruling about custody yet."
Following this hearing, Howard K. Stern issued a statement saying he would not fight for custody. Mr. Stern allegedly hugged Mr. Birkhead outside of the courthouse and stated "We're gonna do what we can to make sure that the best interests of Dannielynn are carried out," "and I'm going to do whatever I can to make sure that he gets sole custody." "My feelings for Dannielynn have not changed." He further stated he wanted there to be a "gradual transition" when it came to the custody issue.
Virgie Arthur, Anna Nicole's mother is very happy with the outcome of the results of the DNA test. She stated "All I care about is the safety and well-being of my little granddaughter". She further commented "I'm happy that Dannielynn will know who her real father is," and "I look forward to working with Larry raising my granddaughter." Ms. Arthur's attorney, John O'Quinn, Esq. told "Larry King Live" that Ms. Arthur would not seek any sort of guardianship of Dannielynn.
Dannielynn Hope Marshall Stern stands to inherit an estimated $500 million dollar fortune from the Estate of Smith's late oil tycoon husband, J. Howard Marshall, II who died in 1995. The dispute is currently ongoing with Mr. Marshall's family.
When the dust cleared, it was reported Mr. Birkhead was asked, what's next? He replied "I'm going to the toy store."
See: http://www.cnn.com/2007/LAW/04/10/smith.baby/index.html; http://www.people.com/people/article/0,,1536410_20033495,00.html; https://abcnews.go.com/US/story?id=3027497&page=1