Prenuptial Agreements Are Not Just for the Wealthy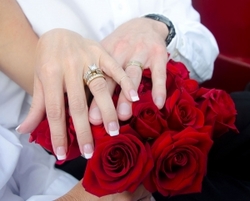 Valentine's Day focuses on love, and with love in the air, many couples begin to plan their next step – marriage. Today it is not unusual for couples to consider drafting prenuptial agreements before they tie the knot.
A common myth surrounding prenuptial agreements is that only the rich benefit from them. Not true. A prenuptial agreement can help any couple, regardless of their net worth. Prenuptial agreements can be helpful if you are significantly wealthier or significantly poorer than your spouse-to-be; if your future spouse has a lot of debt; if you own a business or are part owner; and/or if you plan to give up your career to be a stay-at-home parent.
However, for many people prenuptial agreements just aren't romantic. After all, who wants to think about divorce when just starting out in a relationship? The fact is, though, the divorce rate in the U.S. still hovers around 50%, and even though New Jersey has the lowest divorce rate in the nation (1), chances of your marriage failing is still a possibility. The State's divorce laws may offer a little financial protection, but some people prefer to take matters into their own hands.
Prenuptial agreements don't only help in times of divorce. If one spouse dies unexpectedly without a valid will, the prenuptial agreement can help to assure that his or her share of assets are handled according to his or her wishes, rather than the government's decisions.
Most jurisdictions, including New Jersey, follow the Uniformed Premarital Agreement Act. This Act sets out requirements for a prenuptial agreement to be considered valid: it must be in writing and notarized; both parties must voluntarily agree with its terms; and it must not leave either party destitute or under an unreasonable burden.
In the end, prenuptial agreements can help save on the cost of a messy divorce and can offer a couple the confidence that they will be treated fairly even if their marriage ends unexpectedly. Because there are many considerations involved with drafting a valid prenuptial agreement, professional assistance is recommended.
If you are planning your wedding in the not-too-distant future and feel that a prenuptial agreement would be helpful to ease some of your concerns and that of your future spouse, contact Victor Rotolo and the experienced family law attorneys at The Rotolo Law Firm at 908-534-7900. The Rotolo Law Firm specializes in family law matters and is conveniently located on U.S. 22, Lebanon, NJ.
(1) http://www.nytimes.com/2012/10/14/fashion/weddings/new-jersey-has-lowest-divorce-rate.html?pagewanted=all&_r=0