Custody – David Hasselhoff
On June 15, 2007, former Baywatch star and singer, David Hasselhoff won full and physical custody of his two teenage daughters, 14 year-old Hayley and 17 year-old Taylor-Ann.
His ex-wife, Pamela Bach, has been granted alternate weekends and on Wednesday nights for dinner.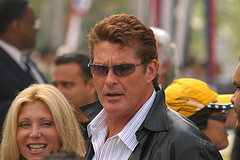 Mr. Hasselhoff also made it clear to his daughters that they can visit with their mother whenever they want to.
Mr. Hasselhoff stated on Ryan Seacrest's radio show "It was a bittersweet victory more than anything because my kids just want to move on. They love their mom, they love their dad, they just wanna get it over with…"
Pamela Bach fired her attorney, Debra Opri on June 18, 2007.
The couple's bitter and lengthy court battle began in January 2006, when they both independently filed for divorce after 16 years of marriage. They divorced last August.
Ms. Bach accused Mr. Hasselhoff of alleged domestic violence, and he accused her of allegedly having a drug problem, and needing psychiatric help.
See: http://www.hollywood.com/news/Hasselhoff_Custody_Victory_Is_Bittersweet/4284488; http://www.buddytv.com/articles/americas-got-talent/david-hasselhoff-wins-custody-7418.aspx; http://www.hollywood.com/news/Hasselhoffs_Custody_Rights_Restored/3701296; http://www.azcentral.com/offbeat/articles/0618hasselhoff-CR.html; http://www.people.com/people/article/0,,1180118,00.html?cid=redirect-articles/; https://www.tmz.com/2007/06/19/hoff-to-ryan-she-ran-her-mouth-but-i-got-custody/