Divorce Issues Can Linger Long After the Final Decree Is Signed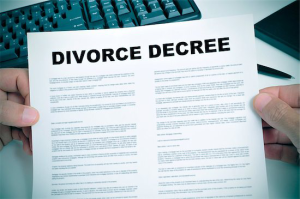 January is often referred to as "Divorce Month" by some relationship professionals, while others think a more accurate description would be the month in which people start researching their options. In either case, there seems to be an increase in divorce activity, whether it's initial inquiries or actual filings, at the start of a new year. In fact, the first Monday of the month sees an increase in divorce filings, which continues throughout the month.(1)
The reasons behind this phenomenon range from the emotional to the practical. The holiday season plays a big role in the decision making process for many couples. People postpone taking action because they don't want to:
be alone for the holidays;
break up the family during what should be a happy time; or
appear cold and heartless for leaving their spouse during the holiday.
For others January is synonymous with a new start; it is a time for doing away with the old and starting something new.
Tax and financial issues pose more practical reasons why people wait until January to begin taking action towards their divorce. Because if they are legally married for even a short-time in the year, some couples can reap the benefits of filing joint tax returns. Also, some companies distribute employee bonuses in January and these bonuses can be claimed as assets by a spouse, possibly increasing the amount of a distribution his or her partner is entitled to. (2)
Divorce is not an overnight process as most people realize. The time from which a person begins to entertain the possibility of divorce, until he or she begins to do serious research and ultimately files for divorce can take months. In fact, research shows that while divorce activity seems to spike in January, it peaks in March.(1) Once the petition for divorce is filed, getting a court date and negotiating a settlement takes more time.
For some people, however, divorce proceedings don't necessarily end even after their final decree is signed. In fact, there are several issues couples would be well-served to attend to even after their divorce is finalized. Courts recognize that people's lives are constantly changing and life-altering events are often unforeseeable. So, while court orders regarding divorce settlements are binding, certain issues can be modified under the right circumstances. Those issues include:
Support — Negotiated child and/or spousal support payments may seem fair at the time of the divorce settlement but can prove insufficient or burdensome if one spouse loses his or her job, or if a spouse or child becomes disabled due to illness or injury. Under such circumstances it may be possible to return to court to renegotiate the support payments, at least until the crisis has passed.
Support needs can also change as a child grows older or the receiving spouse remarries, and these matters can be re-addressed by the court.
Custody and Visitation — Parents who agree to joint custody of their children following divorce will work out an arrangement that, at the time, seems appropriate. Changing circumstances may necessitate adjustments to these schedules. Such circumstances could include a change in job that affects one parent's schedule or even requires that parent to relocate. While certain couples may be able to come to amenable arrangements, it could prove beneficial at a later date to have these new arrangements recognized by the court.
There are circumstances under which a parent may come to believe that sole custody is the better option for his or her child. To achieve this, the parent would have to go to court for a custody determination process.
Changes to agreements are not the only post-divorce issues couples should pay attention to. It is important to make sure the original agreements are being followed. The law does provide avenues through which divorced couples can make sure the terms of their divorce, specifically support payments and custody/visitation issues, are enforced.
There are a number of other matters couples should tend to after their divorce is finalized, including:
Dividing all property according to terms of the divorce
Transferring deed titles appropriately
Changing car titles to reflect the proper owner
Notifying insurance companies about changes in ownership, address, names, etc.
Removing your name from loans or debts for which you are not responsible
Changing address and name, if appropriate, on driver's license, bank accounts, credit cards
Changing beneficiaries on insurances and investment accounts if necessary
Updating wills(3)