Protecting Senior Citizens Against Telephone Scams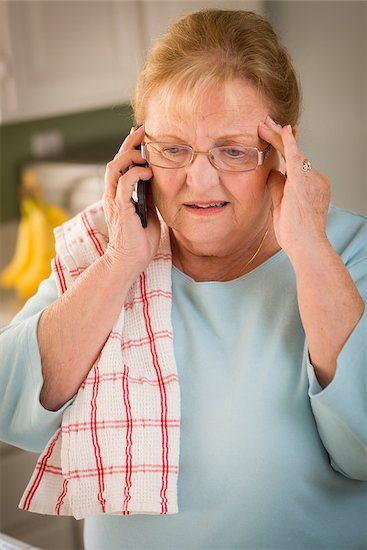 It is a familiar story. An elderly woman from Watchung answered her phone last month only to be told that her grandson was in custody in Haiti and needed her assistance to bail him out. It was only after she had wired $1,990 that the woman realized she had been scammed. Her attempts to stop the wire transfer of money were unsuccessful. (1)
This is just one variation of the many financial scams targeting senior citizens. Sometimes the con artists will claim that the relative of the victim is in the hospital and in need of money. Other times, the caller will even pretend to be the victim's relative, tricking the victim into revealing the name of the person he or she thinks is on the other end of the line, and then claim some type of financial crisis he/she needs help resolving. (2)
According to the National Council on Aging (NCA), the economic status of the victim doesn't matter. Lower income seniors are just as likely to be targeted as are their well-to-do counterparts. (2) The Federal Bureau of Investigation (FBI) offers several reasons as to why our seniors are so often targets of scams like these:
• Generally people of the 'older' generation were raised to be polite and trusting and, as a result, do not have it in their nature to hang up on a caller or to say "No."
• It is often assumed people of this age own their own home, have savings put aside for retirement, and/or have an excellent credit score, all of which make them desirable targets.
• By the time many seniors realize and report that they have been the victim of a scam, their memory of the details of the incident are vague and offer little for investigators to go on. (3)
Whatever the reason, crimes of fraud against our senior population are becoming more prevalent, so much so, that they have been called the crimes of the 21st century. This is, in part, because that segment of our population is growing. Also, con artists see senior citizens as easy targets and consider these crimes low-risk because they go unreported so often. (2)
Factors that hold seniors back from reporting these telephone scams include:
• Not knowing how or where to report the crimes;
• Fearing relatives will think they are no longer capable of caring for themselves or their finances;
• Not realizing, initially, that a crime has in fact taken place.(3)
Even when these crimes are reported, they can be difficult to prosecute. Since these scams are conducted over the phone, there is no physical or visual contact between the perpetrator and the victim, so there are few details the victim can offer investigators to help catch the criminal. Also, what little details there are regarding the crime are sometimes forgotten due to the delay in reporting the incident.
Whether you are a senior citizen or a caregiver looking out for a parent, grandparent or other elderly relative, one of your best defenses against these scams is education. Knowing these perpetrators exist and that these crimes do occur can help you avoid becoming a victim. Although it may be against your nature, be suspicious of callers asking for money. Ask questions to get as much information as possible and don't be quick to act or make decisions. If you are targeted, report the incident immediately to your local police. You can also report such incidents on the FBI website. (4)
(1) http://www.nj.com/somerset/index.ssf/2014/02/north_plainfield_woman_tricking_into_wiring_1990_to_free_a_grandson_in_haiti_who_wasnt_in_custody.html
(2) http://www.ncoa.org/enhance-economic-security/economic-security-Initiative/savvy-saving-seniors/top-10-scams-targeting.html
(3) http://www.fbi.gov/scams-safety/fraud/seniors/seniors
(4) http://www.moneycrashers.com/scams-against-elderly-seniors/